#auto bill of sale template
#
Used Car Bill Of Sale Form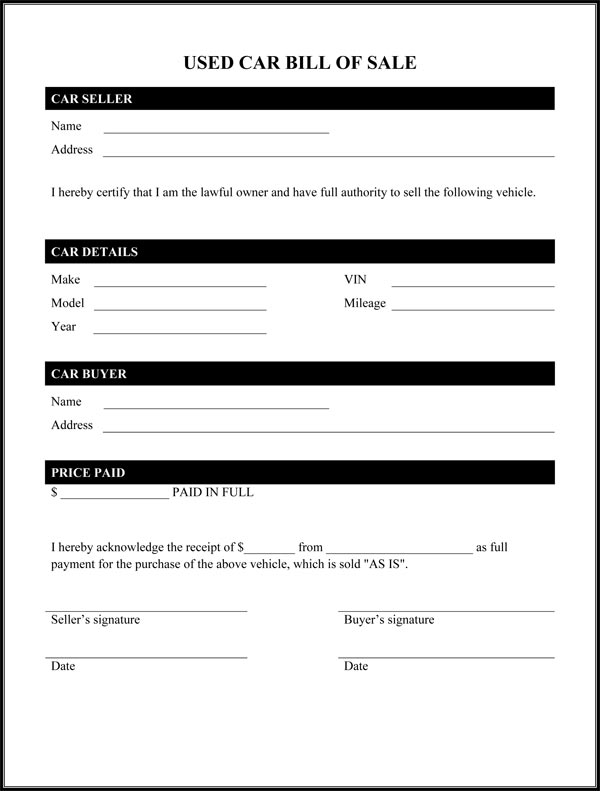 Are you selling or buying a used car? To close the sales deal, you need to have a bill of sale and help is here. We offer you a used car bill of sale form to help you write bill of sale simply and fast. Moreover, this used car bill of sale form is free.
A bill of sale is a legal document that a used car owner issued to a buyer to transfer the ownership of the car to the buyer. A used car bill of sale is a written agreement between the seller and the buyer for sale of the used car.  A used car bill of sale is also known as a sales receipt.
Normally you can buy the bill of sale form at local office supply store, or grab it from local DMV office. However you now can download a high quality bill of sale form right here on this page and use it for free. We provide you two copies of the used car bill of sale forms; one is in Word document format and another is in PDF form. If you want to customize the form, we recommend that you should download the Word template and load it into Microsoft Word application. Otherwise using the PDF form is just as easy as filling out the appropriate fields. Both forms can be printed out for filling manually or just using computer to fill out.
Used car bill of sale form details
The used car bill of sale provides you necessary information required for a bill of sale as follows:
Car seller including name and complete address
Car buyer including name and also complete address
Car details including make, model, year, vehicle identification number (VIN) and mileage at the time of purchase
Price paid
Additional clause to state that the car is sold "AS IS"
Signatures of both buyer and seller
Date of purchase
Bill of sale is important in used car sale transaction because it helps protect both seller and buyer from fraud, future dispute and improper seizure of the car.  Start downloading free used car bill of sale form now and creating professional bill of sale, you will never regret.